Eco Tour in the Caspian Region
Tehran - Talesh - Lahijan - Anzali - Masouleh - Roudkhan - Ardebil - Sarein - Neor - Tehran
Email us : info@iranjasminco.com
Highlights:
Visit Saadabad, the summer residence of Pahlavi kings

Enjoy the beauties of Anzali Lagoon

Conquer Roudkhan Citadel

See Sheikh Safi-ad-din Mausoleum (UNESCO site)

Relax at mountain lake Neor
Arrival in Tehran
AM. Arrival at IKA. Our representative will meet you on arrival, help you with all the formalities and transfer to the hotel.
Day 1: Tehran
Tehran is one of the biggest capitals of the Middle East, it's the city of contrasts, the place where East and West, traditions and modern technologies meet. AM: We will visit Saadabad, a palace built by Pahlavi dynasty in the north of Tehran. Nowadays it's a vast park with a dozen of museums, scattered in its vicinity. You will see how the last Persian monarchs lived and also witness their collections of art. After that we will visit colorful Tajrish bazaar situated nearby and watch everyday life of Tehranis. PM: We will visit Darakeh district in the mountains with lots of authentic Persian restaurants, where citizens spend their free time and eating kebabs. Hiking trails also start from here. Overnight at hotel.
Visit Saadabad, a palace built by Pahlavi dynasty

Visit Colorful Tajrish and Darakeh
Day 2: Tehran – Rasht – Talesh(425 km)
AM: After an early breakfast we will head to the north of Iran, the Caspian region. En route we will visit Gilan Museum of Rural Heritage near the city of Rasht. It is a unique eco-museum that has been constructed in order to show the hidden corners of Gilaki people's culture and lifestyle to the tourists from all around the world.
PM: After meeting the hospitable Gilaki people, we will continue on to Sepidar Apartment Hotel 3* or similar. Overnight.
Gilan Museum of Rural Heritage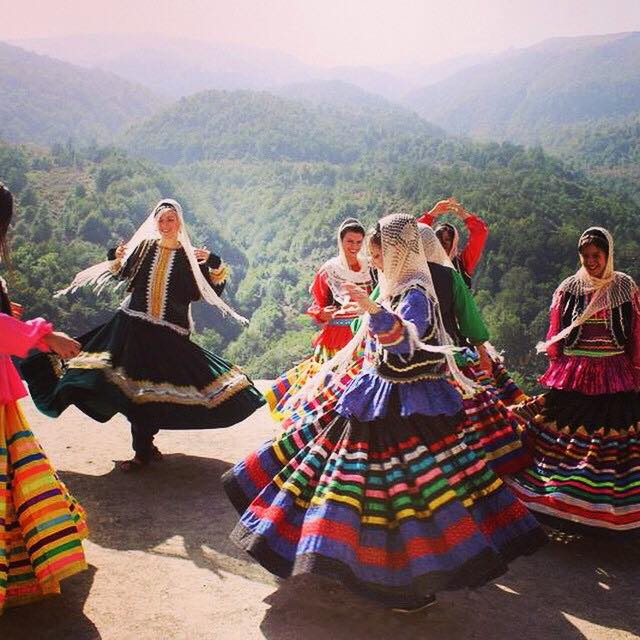 Day 3: Talesh – Lahijan (156 km) – Anzali (80 km) – Talesh (75 km)
AM: Early in the morning we'll set off for the town of Lahijan, famous for its tea plantations. We will use cable way to get on the very top of hill and enjoy the breathtaking scenery of the Caspian Sea and the mountains. You will see how they grow Iranian tea. PM: We will continue to Anzali port. We'll get on the boat to enjoy the beauties of Anzali Lagoon. It is a perfect place for bird watching with some 78 species of birds living in the area. Overnight at Sepidar Apartment Hotel 3*.
Visit Lahijan tea plantations

Anzali Lagoon
Day 4: Talesh – Roudkhan (95 km) - Masouleh (50 km) - Talesh

AM: After an early breakfast we will go to Rudkhan, a brick and stone medieval castle, built during the Seljuk Dynasty (224-661 AD) by followers of the Ismaili sect. It's set high up in the mountains amidst lush forests, almost unassailable. We'll enjoy a pleasant walk uphill that leads to the castle (1,5H). PM: We'll continue on to the village of Masouleh famous for its unique architecture and breathtaking mountain views. The houses have been built into the mountain and are interconnected. Courtyards and roofs both serve as pedestrian areas similar to streets. Masouleh does not allow any motor vehicles to enter, due to its unique layout. Overnight at Sepidar Apartment Hotel 3*.
Roudkhan Castle

Masoule Village
Day 5: Talesh – Ardebil (198 km) – Sarein (28 km)
AM: We say goodbye to the hospitable people of Talesh and move to the historical city of Ardebil. En route we'll pass through the picturesque Heyran road. The city tour includes the complex of Sheikh Safi-ad-din Ardabili, a UNESCO Heritage Site, local bazaar and Shorabil lake. PM: Drive to Sarein, a town famous for its thermal springs that cure many diseases. Overnight at Hotel
Sheikh Safi-ad-din Masoleum, a UNESCO Site

Bazaar

Shorabil Lake

Thermal Springs of Sarein
Day 6: Sarein – Neor (73 km) – Tehran (565 km)
AM: After breakfast we'll drive to the mountain lake Neor (2450 m), it's a unique eco-system, a great place for bird watching and fishing. We'll have a picnic at the lake and then drive to Tehran. Check-in at Axis Airport hotel, get some rest before the departure flight.
Day 7: Tehran. Transfer to the airport for the return flight,end of our services. Otherwise, you're free to depart anytime after breakfast.
* Jasmin Tours & Safaris reserve the right to make amendments to the program or change the mentioned hotels to similar ones in the same category (if not available).
Write to : info@iranjasminco.com